About Us
The Kamakura Iaido Association was founded in 1978 as an organization to promote the study of  Muso Jikiden Eishin Ryu Iaido under the umbrella of Zennihon Iaido Renmei 全日本居合道連盟. 
Chairman: Honami Kouji
About 90 members ranging from young people to the elderly are encouraged to practice regardless of gender or background. Various events are held troughout the seasons in historic places in Kamakura. This is always a great honor for us.
We have many foreign members also outside Japan. If you have a serious interest in Japanese Swordsmanship, we invite you to a free trial lesson.
Trial lesson
If you want to experience this, please bring appropriate clothes (such as track pants and T shirt or Budo clothing).
We can lend you a sword and a belt. You will learn how to handle a sword, ( to draw, swing and sheathe).
After several trial lessons, if you decide to become a member, please apply with the application forms, photo and fee.
Trial lesson Schedule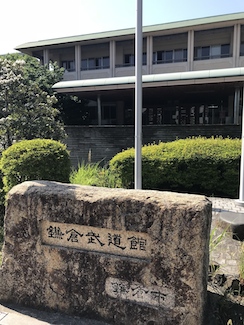 Tuesday
19: 00 to 21: 00


Friday
19: 00 to 21: 00
Caution
Iai-do is a Japanese martial arts using a Japanese sword. When you are in the Dojo, you should be careful and follow instructions.
Information for admission
After several trial lessons, if you want to become a member, please fill in the application forms with including a photo and the fee.
Fees
Admission fee: 5,000 Yen


Annual fee: 20,000 Yen 


Annual fee (Female members): 

12,000 Yen

Annual fee (Senior members, 70 and over 70) :12,000 Yen

Annual fee (Student members, 18 and under 18): 10,000Yen
Practice Schedule
Tuesday
11: 00 to 13: 00
19: 00 to 21: 00


Friday
19: 00 to 21: 00


Saturday
15: 00 to 17: 00  (not every Saturday) 


please check the

schedule
What do you need to start
Sword (Iaito)
Please use a sword, which is suitable for Iai.
Do not use a mock cosplay type sword for, which is unsuitable for practicing due to the strength of the blade and manufacturing process. 
Dogi
Dogi(Kendo clothing, judo clothes, Yukata and kimono can be used)
Hakama